Organizations can't serve their customers with maximum efficacy unless they've got a deep repository of insights into customer behavior and preferences. Retailers and restaurants are acutely aware of the challenges of service excellence, as 34 percent of customers polled in a recent study of CX organizations said "a lack of personalization in customer interactions" represented a major challenge to long-term engagement. 
Because businesses in these sectors are particularly geared toward in-person interactions, identifying engagement gaps can be a pivotal differentiator that computer vision is uniquely suited to deliver. Custom-built computer vision models like the ones Plainsight develops and deploys can help, empowering businesses to see more and make image and video data analytics into a driver of business innovation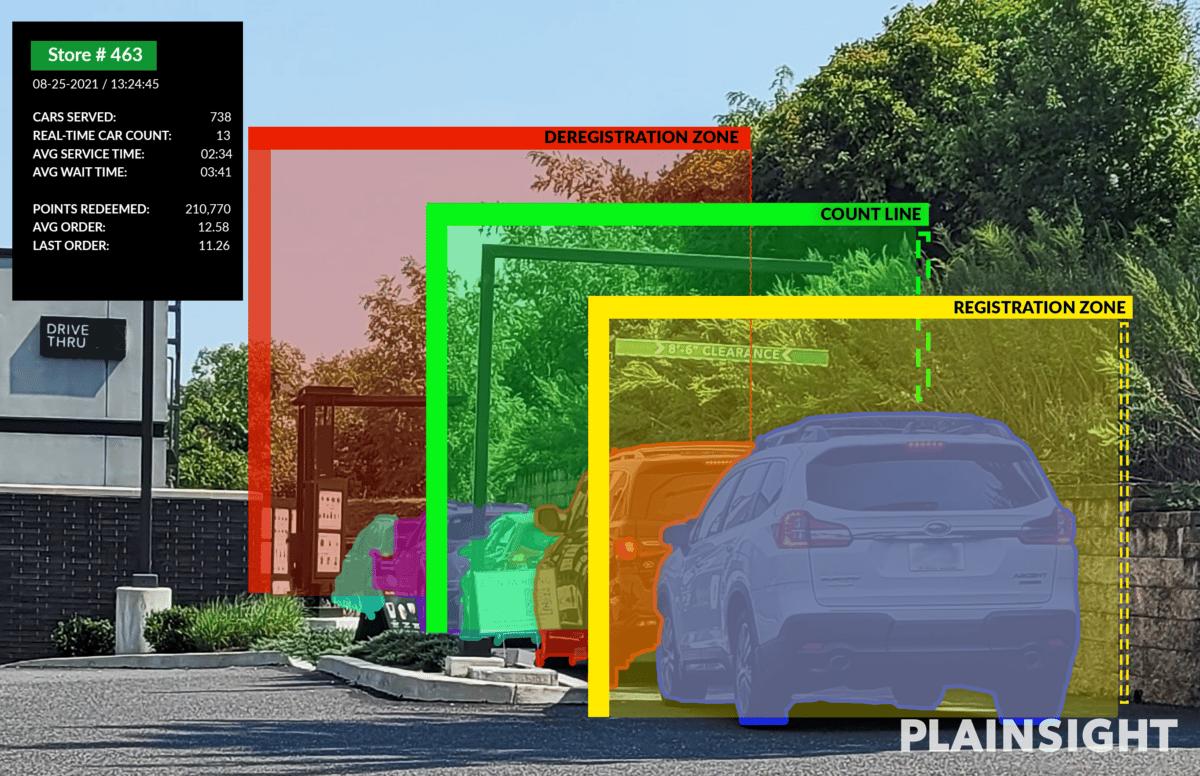 Drive-Thru and Pick-Up Analysis
When eateries across the nation were forced to close their doors to in-restaurant diners during the early days of COVID-19, leaders and laggards alike were forced to act fast. Those that managed to stay afloat throughout the toughest pandemic months were able to thanks in large part to emphasizing new types of customer service. 
Demand for drive-thru service skyrocketed in early 2020 and remained high throughout the following year. Heightened demand represented both an immense challenge and opportunity, placing additional strain on businesses while potentially paving a path for the future of quick-service restaurants (QSRs) and traditional eateries alike.
In addition to providing the means to predict demand and optimize service across locations, custom-built vision AI models can tell restaurants a lot about their customers, including: 
What types of items are customers most likely to order and when? 

How do wait times vary across locations and throughout the day? 

When are customers most likely to leave the drive-thru? How long will they wait? How many cars are too many to bother?  
Plainsight's Co-Founder and CEO, Carlos Anchia, spoke to Modern Restaurant Management last year to discuss the ways computer vision models can help businesses ensure order accuracy, predict and optimize wait times, better recognize trends, and achieve service excellence. For many, transforming their business could mean simply making more effective use of the technologies they've already got in their arsenal.
"QSRs," Anchia notes in the article, "already maintain exterior video cameras and can easily convert this infrastructure into data streams for computer vision."
Enhancing drive-thrus is just the beginning for restaurants looking to leverage computer vision to both serve and understand customers better. From quick-service businesses to fine dining establishments, each type of restaurant can benefit from a renewed emphasis on takeout, curbside pickup, and delivery services. Applying computer vision models to these processes can offer quick, dependable insights for process optimization. 
Are your pick-up services efficient? Are obstructions crowding your pick-up zone? Are diners abandoning their orders? Models like this one can help your organization learn. 
Computer Vision and Retail Customer Experience
Live video analytics and insights from custom-built AI models provide retailers with what they need to improve store operations and the entire shopping experience, for both in-store and online shoppers. 
Shopper Experience Optimization and Online Order Assistance
Insights gained from computer vision-enhanced space monitoring enables retailers to learn more about shopper flow and volume, purchasing demand trends, and typical dwell times. Combined, this information provides for a more strategic and effective approach to space utilization, and customer sales support. 
Curbside pickup service isn't just for restaurants. Retailers have also seen new service models emerge and grow more popular as a result of both pandemic restrictions and changing consumer expectations. Online ordering has taken off, but concerns remain about order accuracy and expediency. Viral complaints about male Instacart shoppers even ignited spirited discussions on TikTok and Twitter earlier this year. 
Vision AI models to support online shopping have the potential to guide in-store shoppers, provide product verification, and real-time support for product selection, correction, and validation. Ultimately, they can empower retailers to confidently diversify their offering and serve a broader range of customers with ease. 
Get to Know Your Business and Your Customers Today
Schedule a demo to learn more about how Plainsight's expert team can develop production-ready solutions fast to help you better understand your business, your team, and your customers.